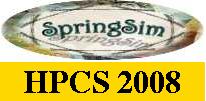 GENERAL CHAIR
Masha Sosonkina, Ames Laboratory
GENERAL VICE-CHAIR
Tomasz Haupt, Mississippi State University
PROGRAM CHAIR
Cliff Shaffer, Virginia Tech
PROGRAM VICE-CHAIR
Adrian Sandu, Virginia Tech
IMPORTANT DATES
Paper submission due: November 30, 2007
Acceptance Notification: January 7, 2008
Revised manuscript due: January 28, 2008
Symposium: April 14-16, 2008

The 2008 Spring Simulation Multiconference will feature High Performance Computing and Simulation Symposium (HPCS 2008). HPCS 2008 represents the merger of the High Performance Computing Symposium (HPC) with the DEVS Integrative M&S Symposium (DEVS). This will be the 16th special symposium devoted to the impact of high performance computing and communications on computer simulations.
Advances in networking, high-end computers, large data stores, and middleware capabilities are ushering in a new era of high-performance parallel and distributed simulations. Along with these new capabilities come new challenges in computing and system modeling. The goal of HPCS 2008 is to encourage innovation in high performance computing and communication technologies and to promote synergistic advances in modeling methodologies and simulation. It will promote the exchange of ideas and information between universities, industry, and national laboratories about new developments in system modeling, high performance computing and communication, and scientific computing and simulation. Topics of interest include
High Performance/Large Scale Simulation

High Performance Applications and Case Studies

Distributed and Grid Computing

Asynchronous numerical methods.

Hybrid system modeling and simulation

Discrete event system modeling methodologies

Visualization and Data Management

Advanced Simulation Frameworks

Problem Solving Environments

Parallel Algorithms and Architectures

High Performance Software Tools

Tools and Environments for Coupling Parallel Codes

Component Technologies for High Performance Computing
PUBLICATION
The symposium proceedings will be published through the ACM on CD-ROM and in the ACM Digital Library.
Please join us for HPCS 2008 in Ottawa!
[Last updated: echo date( "m/d/Y", filemtime( __FILE__ )); ?>]