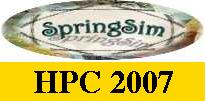 GENERAL CHAIR
Layne Watson, Virginia Tech
PROGRAM CO-CHAIRS
Tomasz Haupt, Mississippi State University
Cliff Shaffer, Virginia Tech
Masha Sosonkina, Ames Laboratory
IMPORTANT DATES
Paper submission due: December 1, 2006
Acceptance Notification: December 22, 2006
Revised manuscript due: January 15, 2007


Registration packet due: January 29, 2007
Symposium: March 26-29, 2007
FURTHER INFORMATION
Please contact the General Chair:
Layne Watson <ltw@cs.vt.edu>
Note: Submissions are now closed. See you at HPC 2007!

Papers should be submitted electronically (in PDF, PS, RTF, or MS Word formats) via the HPC 2007 Paper Submission Website.

All papers should use SCS format. For users of LaTeX and Microsoft Word, SCS provides some specific guide files:

At least one author of an accepted paper must register for the symposium and must present the paper at the symposium.