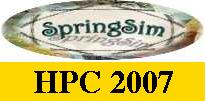 GENERAL CHAIR
Layne Watson, Virginia Tech
PROGRAM CO-CHAIRS
Tomasz Haupt, Mississippi State University
Cliff Shaffer, Virginia Tech
Masha Sosonkina, Ames Laboratory
IMPORTANT DATES
Paper submission due: December 1, 2006
Acceptance Notification: December 22, 2006
Revised manuscript due: January 15, 2007


Registration packet due: January 29, 2007
Symposium: March 26-29, 2007
FURTHER INFORMATION
Please contact the General Chair:
Layne Watson <ltw@cs.vt.edu>

The 2007 Spring Simulation Multiconference (formerly Advanced Simulation Technologies Conference) will feature High Performance Computing Symposium (HPC) 2007, the 15th special symposium devoted to the impact of high performance computing and communications on computer simulations.
Advances in networking, high-end computers, large data stores, and middleware capabilities are ushering in a new era of high-performance parallel and distributed simulations. Along with these new capabilities come new challenges. The goal of the 2007 High Performance Computing Symposium (HPC 2007) is to encourage innovation in high performance computing and communication technologies and to stimulate the use of these technologies in key areas of computer simulation. It will promote the exchange of ideas and information between universities, industry, and national laboratories about new developments in high performance computing and communication, that address current scientific and technical challenges within the simulation community. Broad areas of interest include:
High Performance Applications

High Performance Software Tools

Distributed and Grid Computing

Visualization and Data Management

Problem Solving Environments

Parallel Algorithms and Architectures

High Performance Discrete Event Simulation
PUBLICATION
The symposium proceedings will be published by the Society for Modeling and Simulation International (SCS).
Please join us for HPC 2008 in Ottawa!